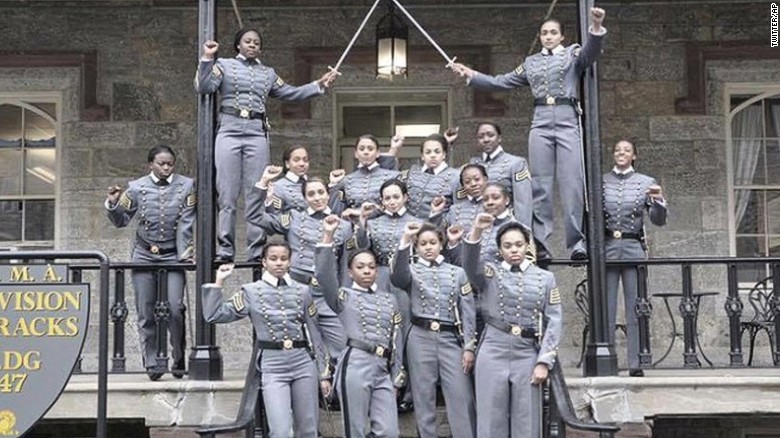 I just read this article by Sean Hughes about the recent solitary shown by these West Point Cadets. He calls it "Fierce Lives Matter". I felt it was worthy of a direct comment which I posted to the article and now I want to share here on my blog. Here is the article.
Sean has written an excellent piece, no doubt. He addresses a subject that most shy away from because it's almost impossible to approach the topic without showing personal bias thus inviting criticism from one corner or another. It takes bravery to do so. Sean is to be applauded and I stand with all the accolades he has received. That said, I guess I'll throw down from my corner a few comments to be profiled as seen fit…
First, why do we characterize "Black Lives Matter" as a political movement? If the cadets were standing there in solidarity of "Breast Cancer" for instance, would they be receiving the same scrutiny? It's an awareness issue. Those who turn it political show their prejudice immediately. There is only one side to the issue, thus it is not political. Black lives matter.
Second, to suggest the picture demonstrates in the cadets a lack of judgement equivalent to that of the "idiots" wearing Hawaiian shirts at the football game is a poor characterization of the professionalism of these officers. They are ready to serve our Country. They are not pulling an ill advised prank as underclassmen at some sorority rush, that due to social media has come back to bite them in the ass. They are making a simple statement. They are not stacking tires over a flagpole, exploding low quarter bombs on the quad, or hazing underclassmen…all things that show poor judgement but become learning opportunities at a military school should cadets survive the fall out. This is not a learning opportunity.
Third, I disagree with Sean's "Don't tell me I can't". As military officers, violating the UCMJ is a criminal offense. Because, there are many things, under the UCMJ, that you simply can't do…like miss work, disobey an order, fraternize, or speak freely. That, I hope, is not what our new officers are learning at military schools. That said, I don't believe this to be a Grace Hopper moment either, where one can ask forgiveness rather than get permission because it's easier. Although it is a bit closer. Sean wisely does not pretend to know what's in the mind of these women…I would not pretend to venture a guess either. There are 17 minds at work….perhaps all of their reasons are different. What's not different is this moment of solidarity. A moment in time where they all have put individualism aside and stood together as one. At war, this is the moment of unity that good order and discipline teaches us. This is the band of brothers, and sisters, that Sean and I, or any other warrior would go to war with…this is the foxhole moment. This is what should be taught at military schools. They passed the test.
Fourth, and this one is not directed at Sean, it's directed at a comment coming from Merrell. Thank you for your service to our country. I'm glad I wasn't in your unit…